Shopping For The Best Multi-Surface Vacuum Cleaner?
From vacuuming carpets to cleaning hard woods, the Kirby is the best choice when shopping for a multi-surface vacuum cleaner.
Versatility in Floor Cleaning: Why The Kirby Cleaning System Shines 
Trends come and go in the home appliance market, but one development appears to have a great deal of staying power: versatility as it relates to multi-floor cleaning. Homeowners are willing to pay top dollar for versatile products that do it all.
The appeal is obvious: the more devices you need to use to clean various surfaces, the more time and money you'll waste — and the less space will be available for storing other, more important items. Why not simplify your cleaning regimen and your lifestyle in general?
It's easy to see why today's consumers are eager to embrace products that provide multi-functional options. Their goals are numerous:
Maximize space.
Make their homes look gorgeous.
Tackle health issues such as allergen exposure.
Today's home appliances are more innovative, faster, and versatile, so the average person should have no trouble finding solutions that make life easier.
This trend's takeover is especially obvious in the kitchen, where products such as the Ninja Foodi 9-in-1 Pressure Cooker or the Vitamix Ascent Blender & Food Processor offer flexible solutions. The Breville Joule Oven Air Fryer Pro takes it to the next level by offering 13 different ways to prepare meals! The right tools can instantly transform cooking from mundane to exciting.
Unfortunately, this shift has been slow in the vacuum industry. The average new vacuum looks a lot like the model consumers depended on twenty, thirty — even fifty — years ago. While some modest improvements have arrived in recent years, many of today's vacuums pale compared to the flashier equipment on display in the typical modern kitchen.
Meanwhile, durability is on the decline. Vacuums often do less while only lasting a few short years. Constantly investing in new models can be frustrating when so many appear at a technological standstill.
Most manufacturers specialize in producing vacuums from one of five main categories: upright, canister, stick, hand-held, and robotic. These days, however, many homes feature numerous surfaces that require more targeted cleaning methods. Consumers end up purchasing several tools to clean different home surfaces effectively.
The solution? A multi-surface cleaning system that works for every space imaginable! A few models expand cleaning versatility beyond what we've seen in years past, but only one can be considered a comprehensive system: the Kirby Avalir 2.
Cost Comparisons: DIY Floor Cleaning vs. Hiring a Professional
Before researching vacuum cleaner versatility, it's important to consider the cost of not investing in a multi-surface solution. This might prove more expensive than you anticipate.
In homes with multiple floor surfaces, homeowners typically spend more money on specialty cleaning equipment like carpet shampooers, tile & grout scrubbing, or hardwood polishing. You can either pay for expensive professional services or purchase appliances designed specifically for these jobs. Aside from the money needed to purchase all this equipment, the most significant investment might be the new addition to store it all!
When you own a comprehensive cleaning system, there is no need to shell out extra for specialized equipment or professional services. While the upfront cost may seem significant, your cleaning system will quickly pay for itself as you avoid the ongoing costs associated with other floor cleaning methods.
When in doubt, search for the most durable and reliable model available. Ideally, your home cleaning system will last years — even decades. You could save thousands on cleaning bills, repairs, and replacements during that time.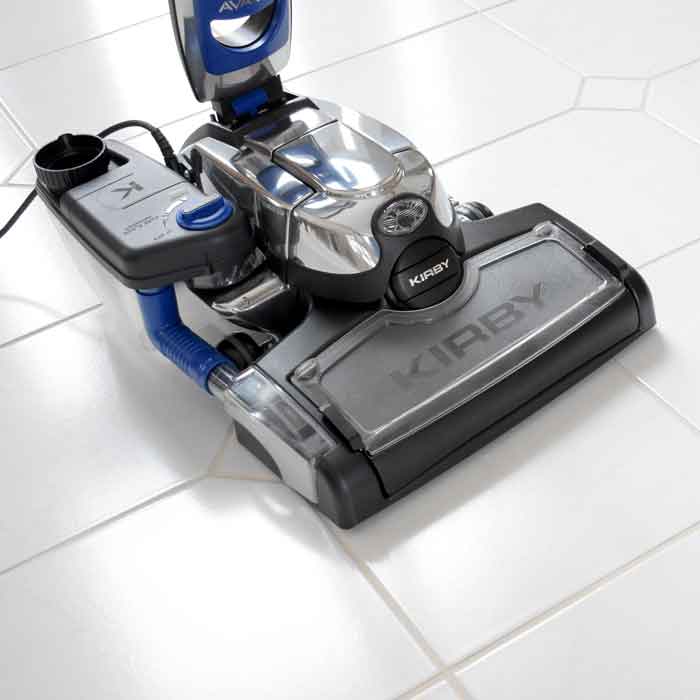 Shopping For The Best Multi-Surface Vacuum
While it's possible to get a deep cleaning when relying on several separate systems, most consumers prefer to stick with a single, highly versatile solution. This limits the need to learn about and juggle numerous devices, each of which holds its own unique quirks. Life is much simpler when a single device handles all your floor cleaning needs.
Therein lies the value of the Kirby Avalir 2. While the Kirby is best known as an American-made vacuum that provides best-in-class performance and is built to last for generations, it's also the most versatile system in the industry.
Vacuum Carpet & Hard Floors
The Kirby Avalir 2 home cleaning system is renowned as an upright vacuum that deep cleans your favorite carpets and rugs. It has impressive suction power but is surprisingly easy to operate. Make the most of the Tech Drive power assist function, which keeps your vacuum moving seamlessly. Meanwhile, HEPA filtration and excellent sealing mean that home-based allergens can be a thing of the past when you regularly use your Kirby upright.
Not only is the Kirby Avalir 2 excellent as an upright, it easily converts to a powerful, portable canister vacuum with fifteen custom attachments. These accessories can handle every cleaning job imaginable, ranging from duster brushes to extension tubes and even crevice tools.
You'll enjoy converting your Kirby to the hand-held mode when you need to clean mattresses, stairs, and furniture. When switched over to a hard surface vacuum, Kirby's superior airflow removes dirt from hard surfaces. No matter where you need to clean, you'll find a Kirby solution that gets the job done.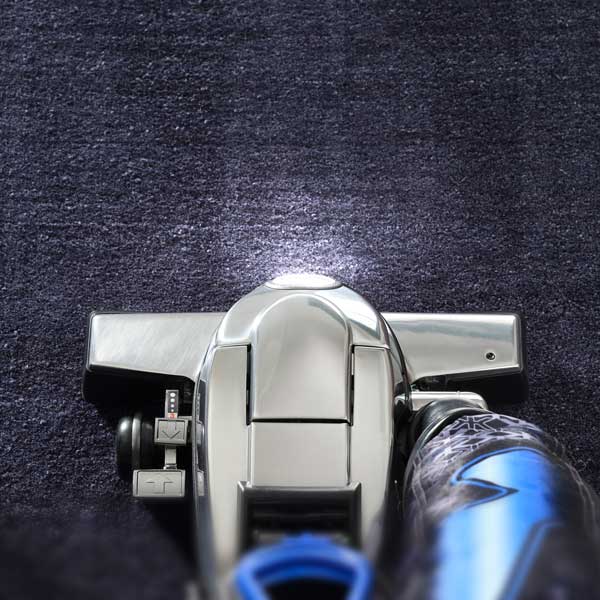 Shampoo Carpet & Hard Floors
The Kirby Multi-Surface Shampoo system seamlessly integrates with the Kirby Avalir 2, allowing for multi-surface floor cleaning. Switching from vacuum to shampoo is incredibly easy, so you should have no trouble making the most of every cleaning method available.
Ready to make your carpets, rugs, and hard floors shine? After you vacuum the carpet, attach the Multi-Surface Shampoo System. A portable shampooer is also available, so you can easily tackle targeted areas. Attach this accessory and pull the trigger to create suds. Once you've worked these into the surface and allowed them to dry, you can vacuum away any remaining residue.
If you want to level up your cleaning capabilities, you're in luck: specialized kits for hardwood floors (plus tile and grout) go the extra mile. These can be applied lightly alongside high-level features such as Tech Drive power assist. 
Who Should Buy a Multi-Surface Vacuum Cleaner?
No single vacuum is guaranteed to appeal to every type of person. A lot depends on which kinds of surfaces you expect to clean and how much time you want to dedicate to this routine. You can't go wrong with a multi-surface vacuum if you desire a blend of simplicity and efficacy.
Multi-surface vacuums appeal to people with high expectations and minimal downtime. You simply can't commit to researching, buying, and maintaining various cleaning solutions when you're always on the go. An all-in-one approach makes life far more manageable, allowing you to clean easily. Get ready to bid farewell to the cleaning complications of yesteryear.
Many great vacuums specialize in either cleaning carpets or hard floors. Many can even perform specialized tasks, such as shampooing. Despite all this, only a Kirby home cleaning system combines versatility and superior performance to serve as the one machine for all your home cleaning needs.
ONE MACHINE WITH SO MUCH CLEAN
If you are tired of buying more than one machine to clean your floors, the Kirby Avalir 2 with Multi-Surface Shampoo System could be life-changing! You will never regret investing in an all-purpose cleaning system that gets every nook and cranny looking pristine.