Mop your Floors with the Kirby
Keeping your floors clean can be difficult, but the Kirby with Multi-Surface Shampoo System is ideal for cleaning hardwood floors, linoleum, tile, and more!
The Importance of Clean Floors
A house is only a home when it's filled with love, but how can someone love a home with dirty floors? Using an old-fashioned broom and dustpan to keep your hard floors clean just doesn't cut it. That's where the Kirby comes in. When you take pride in your home, you'll avoid dirty floors at all costs. And with the Kirby, you'll enjoy peace of mind knowing you got the dirt other cleaning systems left behind.
How Is Dirt Tracked Into My Home?
With almost every step outside, dirt and grime clings to the bottom of your feet. When you step back inside, this dirt is often released onto your floors, carpet, and steps.  The situation is much worse for those who don't immediately remove their shoes. The first line of defense against tracking dirt into the home is often a strategic entry rugs that traps dirt upon entry. These rugs can easily be vacuumed or shaken outside to dispose of any trapped dirt. Even in homes with entry rugs, you're likely tracking in dirt and grime on a daily basis!
The Different Types Of Dirt
Now that we understand how dirt is tracked into the home, it's important to understand that not all dirt is the same. Often, dirt can be split into "dry" dirt and "wet" dirt. This is an important difference to understand so you know exactly how to remove both types of grime.
How "Dry" Dirt Impacts Your Home
"Dry" dirt makes up the majority of debris found on your floors. Dirt, hair, sand, food crumbs, and other solid particles often sits on top of the floor surface. This "dry" dirt can not only make your home look messy, but in worst case scenarios, harder "dry" dirt like sand or small rocks can scruff or scratch your floors, permanently ruining your property. Luckily, this type of dirt is easily removed by vacuuming with the Kirby or one of its many attachments. Plus, dirt that is removed from your floors, steps, and other surfaces are trapped in the Kirby's disposable filter bag making dirt disposal a sinch! 
How "Wet" Dirt Impacts Your Home
Unlike "dry" dirt, "wet" dirt is hard-to-remove soil like mud, sticky foods, and grimy residue. This type of soil often starts out wet but dries over time. When "wet" dirt dries on your floors, this grime often can't be removed by vacuuming alone. This is where the popular Kirby Multi-Surface Shampoo System shines.
How To Mop Your Floors With The Kirby
Cleaning hard floors can sometimes be a chore, but it can make a big difference in the cleanliness of your home. To begin, remove all "dry" dirt from your floor surface by vacuuming with your Kirby. This will pick up any loose debris like dirt, hair, food crumbs, and other small solids. Once you finish vacuuming, remove the power nozzle and install the Kirby Multi-Surface Shampoo System with the specialized Hard Floor brush roll. Spray Kirby Hard Floor Cleaner on the floor surface or dilute Kirby Hard Floor Cleaner concentrate using the Multi-Surface Shampoo System tank. Mop your hard floors in small sections letting them air dry when done. Remove the front tray from the Multi-Surface Shampoo System then rinse under warm water to remove emulsified dirt, grime, and floor cleaning solution.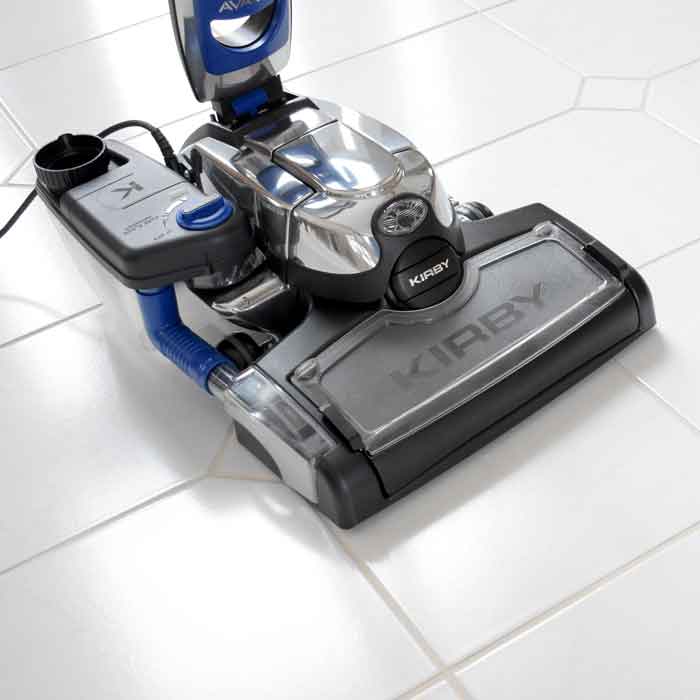 How Often Should I Mop?
This question will vary by household but it's a good idea to mop your floors regularly to make sure your home is always fresh and clean. Best practice is to vacuum once per week for everyone living in your home. So, if there are four people living in your home, it's a good idea to vacuum up to four times a week. Then, once a month, finish your routine vacuuming then take the time to mop your hard floors. This suggested monthly cleaning session will remove any hard-to-remove dirt and grime stuck on your floors. If you stick to a similar cleaning routine, your home will stay neat and tidy plus protect your hard floors for years to come.
Should I Buy a Hard Floor Cleaner And Vacuum, or The Kirby system?
While you have the option of buying a vacuum AND separate hard floor cleaning products, owning both cleaning systems can be costly and require a lot of closet space. That is why for more than 100 years, people across the world have trusted the Kirby to clean their entire home. That's because the Kirby isn't just a vacuum. It's a whole-home system capable of shampooing carpets, mopping hard floors, polishing hardwoods, and scrubbing tile and grout. Don't waste your time and money on multiple machines when buying a Kirby is one machine, with so much clean.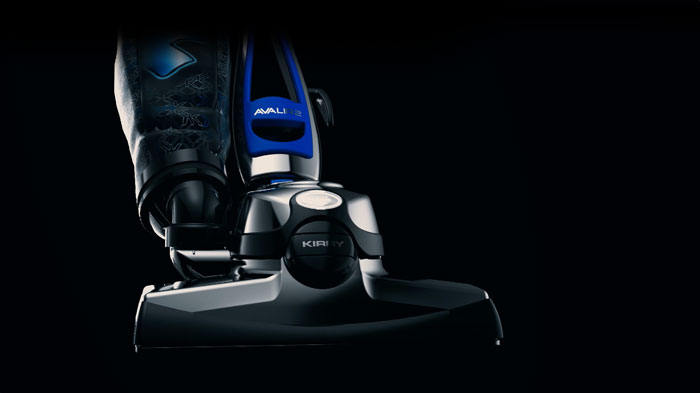 Hard Floor Cleaning Made Easy
Keeping your hard floors clean is a requirement for maintaining a tidy home. Routine vacuuming followed by mopping with the Kirby is the best way to keep your hard floors spotless. So, stop cleaning your floors by hand and take pride in the cleanliness of your home with one of the most trusted brands in cleaning. Purchase the Kirby with Multi-Surface Shampoo System and deep clean your entire home with ease.